Dr. Joshua Vrabec, MD
Board-Certified Ophthalmologist, Top Cataract Specialist, and LASIK Eye Surgeon in Rochester Hills, MI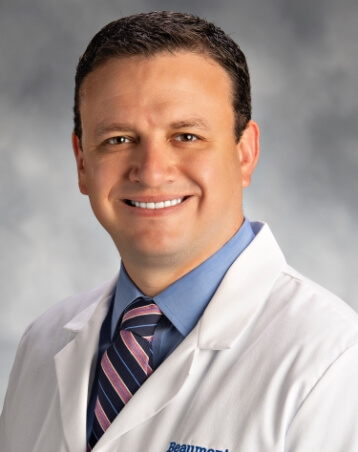 I'd like to thank you for considering me and the Clear Vision Cataract & LASIK Center to be your eye specialists in Rochester Hills and Troy. We have built an amazing team of vision correction specialists who are deeply dedicated and highly trained to listen to your concerns and help you achieve your vision goals. I understand the importance of not only delivering great outcomes with advanced cataract surgery or LASIK, but also delivering that expert care with kindness and compassion. Sadly, "Big Medicine" has overtaken many aspects of health care, but I'm proud to say we continue to provide a superior, more personalized product for our patients due to our ongoing commitment to remaining independently owned and operated.
For more than 25 years, I've helped thousands of patients achieve their vision goals by demanding the very best from myself and my team and continuing to invest in cutting-edge technology that helps our patients achieve their vision goals with a satisfaction rate over 99% and a 5-Star Google Rating. But don't take my word for it, just read some of our Testimonials! You'll see that our patients continue to choose Clear Vision Cataract & LASIK Center for their cataract surgery or LASIK due to our personalized approach and focus on the individual patient's needs. We pride ourselves on getting to know each of our patients, and continuously are updating and improving our processes as technology advances. We offer a clean, updated environment including a state-of-the-art procedure suite, which allows us to handle nearly every aspect of your care in one convenient location. It is truly my goal to be the top cataract and LASIK surgeon in the Detroit metro area with the best outcomes and best patient experience. I look forward to meeting you, and finding out how the Clear Vision Cataract & LASIK Center in Rochester Hills may partner with you in achieving your personal goals for your vision.
After growing up and training in Wisconsin, I'm now a long-term resident of Michigan and reside in Rochester Hills. I enjoy traveling and spending time with my family, trail running, mountain biking in Stony Creek, and preparing freshly cooked meals. Professionally, I'm most proud of starting Michigan Ophthalmology as a new practice in 2019 from the ground up, and then recently rebranding our practice to the Clear Vision Cataract & LASIK Center after expanding the office to offer on-site LASIK and cataract surgery in our very own Quad-A Accredited facility. I love that we continue to be 100% physician-owned and operated, which ensures that all of our patients are cared for without being influenced by outside corporate ownership.
With gratitude,
Dr Vrabec
PS. If you feel like you've been herded through an assembly line recently at your last eye appointment, you are not alone! Contact us today and speak to a real person who can assist you with a convenient cataract consultation or LASIK screen typically within a few days. If surgery is indicated, we typically can arrange for procedures within just 2 weeks after your consultation. Start seeing again faster with the Clear Vision Cataract & LASIK Center!
Education & Credentials
Bachelor of Science (BS), University of Wisconsin-Madison (1999)
Doctor of Medicine (MD), University of Wisconsin-Madison (2005)
Residency in Ophthalmology, Chief Resident, University of Wisconsin-Madison (2009)
Clinical Assistant Professor, University of Michigan (2009-2019)
Medical Director, University of Michigan Kellogg Eye Center (2011-2019)
License to Practice Medicine and Surgery by State of Michigan (2009-present)
Board Certified by American Board of Ophthalmology (ABO)
Fellow of the American Academy of Ophthalmology (AAO)
Member of Refractive Surgery Alliance (RSA)
Member of American Society of Cataract & Refractive Surgery (ASCRS)
Medical Staff Member: Ascension Providence Rochester
Medical Staff Member: Beaumont Troy Corewell Health
Over 100 professional lectures, presentations and publications